Posted On: Monday 14th of December 2015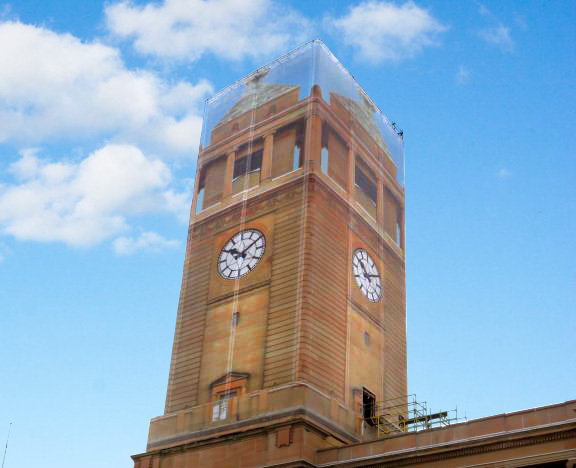 How do you keep the restoration of one of Newcastle's most recognised heritage-listed buildings under wraps? VFX Print Group took on the challenge erecting hoarding to cover the huge sandstone façade, allowing visitors to enjoy the elegance of the City Hall Clock Tower thanks to the illusion created by an exact replica.
The Challenge:
Originally built in 1928, City Hall Clock Tower is currently being restored to its former glory. Whilst under construction, the customised printed hoarding, produced by VFX Print Group, ensures the City Hall Clock Tower still looks as elegant as ever.
City Hall Clock Tower is a heritage-listed icon situated in the heart of Newcastle. In May 2014 restoration works of the sandstone façade commenced so VFX Print Group was commissioned to create a hoarding to be erected on the scaffolding to cover the unsightly construction work.
The team of experts at VFX Print Group created a hoarding that was an exact replica of the City Hall Clock Tower providing the illusion that the restoration works didn't exist.
VFX Print Group's professional CM3 certified installers, complied with The City of Newcastle's stringent requirements whilst assembling the hoarding and will also remove it once the restoration work is completed.
The Result:
The hoarding was made from a highly durable PVC mesh allowing it the ability to withstand the harsh construction environment whilst keeping the aesthetic of Newcastle's main street intact.
Having been in place for almost 1 year, mother-nature wreaked havoc in April 2015 with an extreme weather system that produced near cyclonic winds. The scaffolding that held in place the hoarding was damaged. However the team at VFX Print Group immediately reproduced and re-installed the hoarding where it remains in place until the final restoration is revealed.
Meanwhile visitors to Newcastle's main street still get to enjoy the nostalgic elegance of the City Hall Clock Tower thanks to the illusion created by VFX Print Group. View all the images.