Posted On: Wednesday 5th of November 2014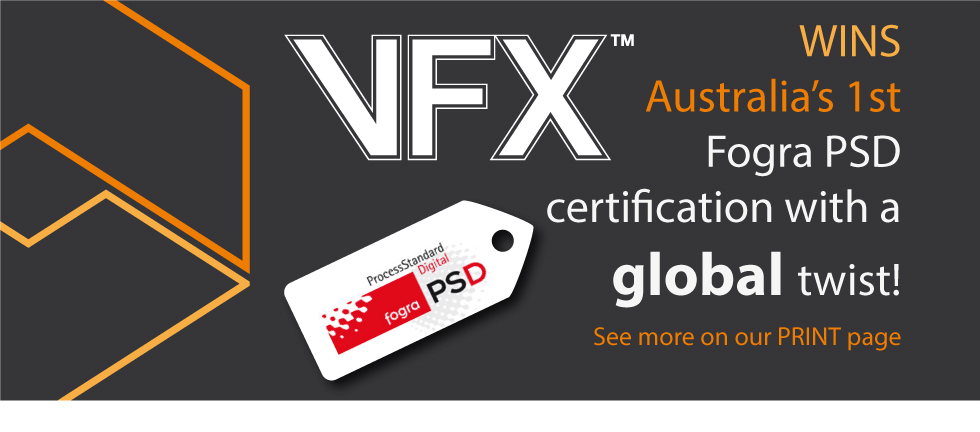 VFX Print Group is the first printing company in Australia to gain the prestigious Fogra Process Standard Digital certification and the first in the world to achieve it across all three digital platforms; small- large- and grand-format.
The certification has been awarded to six of VFX's printers located across its Sydney and Brisbane locations, being three for PSD and a further three at Print Check Level. All six printers achieved an A score in the testing.
According to Bill Apostolidis, General Manager at VFX, demand for digital printing has been on the rise with the company working hard on improving digital printing processes to ensure a consistent output.
"We're delighted to have this capability recognised in being awarded Fogra PSD certification this month. In working towards the Fogra PSD certification, we rigorously tested all our printers to enable us to offer a reliably high standard of colour quality output for every type of digital printing we do," he said.
"This means that for business cards through to billboards, our customers can be confident that their digital colour printing will be perfectly brand compliant in every instance. It will also be consistent over time, whether it's printed now or sometime in the future."
"This is particularly exciting for digital printing of large and grand format projects. We believe we are the first company worldwide with PSD certification for all three digital printing platforms, so we are looking forward to helping our customers achieve a first rate result, wherever they are in the world."
VFX has been working towards Fogra PSD accreditation for two years, using the ColorGate RIP software and collaborating closely with Celmac Australia and with HP's Indigo and Scitex divisions.
"Our preparations involved reviewing our entire print environment, not just the machinery," said Apostolidis. "It's been a really worthwhile journey that's strengthened our broader business processes as well. Our customers have noticed the improvements and we've seen a sizeable growth in word of mouth recommendations."
In awarding VFX Fogra PSD certification, Fogra Graphic Technology Research Association, based in Germany, conducted comprehensive and detailed testing. This included examining output processes, colour fidelity and workflows for each of VFX's six printers, to ensure a sustained and consistent colour quality output.
"It's been a really worthwhile journey." Bill Apostolidis
"We're really proud of having achieved this status. It demonstrates how serious VFX is in offering a high quality product with perfect colour vibrancy and consistency for all of our digital printing projects," said a delighted Apostolidis.