Posted On: Tuesday 8th of December 2015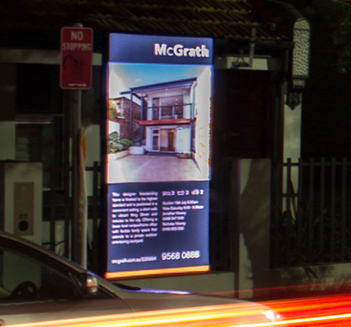 The human eye is always drawn to the brightest object in a given space. Illuminated signboards, now available in both electricity & solar powered formats, are a great way to gain attention. Designed to attract the interest of passing traffic both day & night, the illumination composition achieves the fine balance of attracting attention, yet is subtle enough to limit the impact of light on neighbouring properties.
Our innovative illuminated signboards are exclusively available in both electricity powered and solar powered formats.
Electricity Powered Illuminated Signboards
The electricity powered illuminated signboards are ideal for use in all locations where electricity supply is available. They use a low voltage (15V) power supply that is safe for outdoor usage.
Solar Powered Illuminated Signboards
*** AVAILABLE IN NSW ONLY (Sydney Metro, South Coast & Central Coast/Newcastle) ***
For locations without access to a power supply, our 100% solar powered illuminated signboards are a good alternative. Powered by a discrete solar panel that is built into the signboard, the illumination brightness is equivalent to electricity powered signboards, even on cloudy days.
By nature of solar power, for signboards that will be placed in heavily shaded areas, electricity powered illuminated signboards are recommended.
For further advice on the suitability of each illuminated signboard format, please contact your VFX Print Group Account Manager.